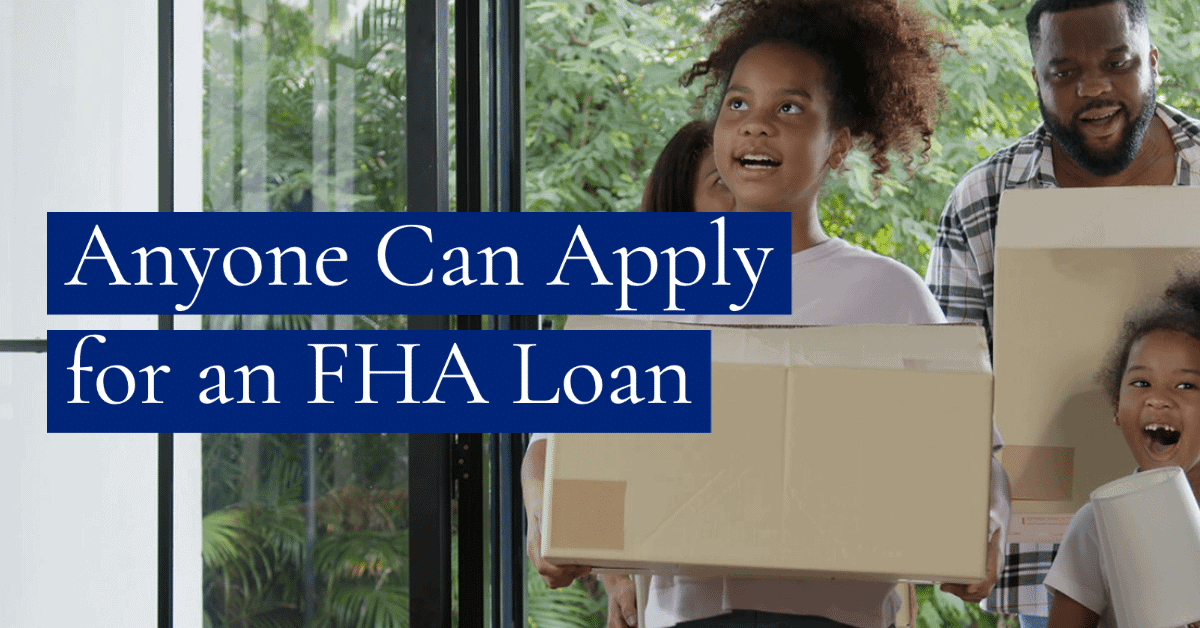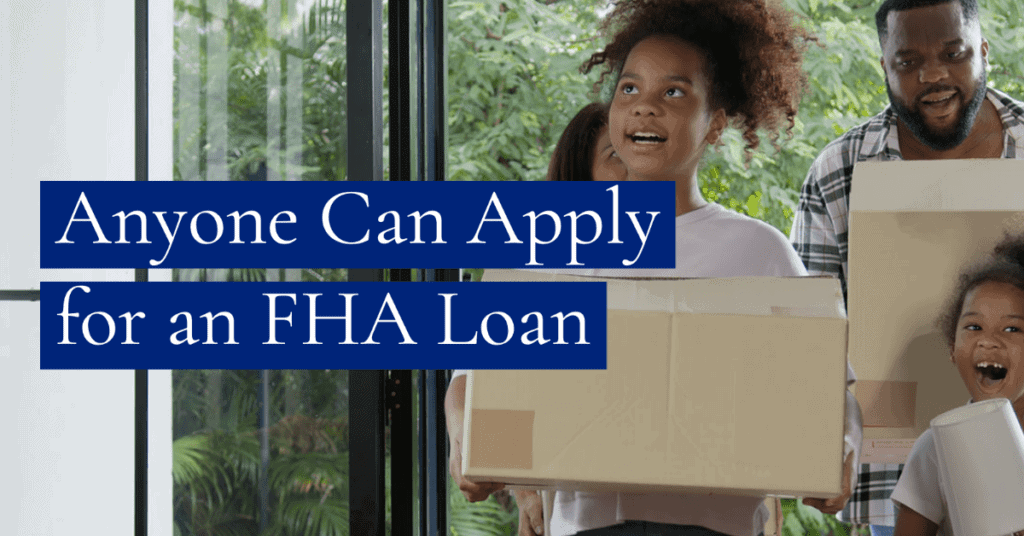 An FHA Loan is a type of mortgage that is insured by the Federal Housing Administration. FHA insurance provides mortgage lenders with protection, which allows lenders to offer loans with low down-payments beginning at just 3.5%, easier credit requirements, and good interest rates. FHA loans are very popular with lower-credit scores, lower-income, and first-time homebuyers due to their low rates and flexibility. However, anyone can apply for FHA financing. It isn't limited to only one kind of buyer.
Who is Eligible for an FHA Loan?
For decades, FHA loans have made homeownership accessible to many who thought home ownership was out of reach. The FHA loan is designed for borrowers who have lower credit scores and makes it possible to purchase a home with 3.5% down even if the credit score is as low as 580. However, borrowers with higher credit scores may also choose this program depending on their needs. Also, an FHA refinance can allow current homeowners to access equity in their home with a good interest rate even if their credit score is lower.
A qualified borrower will need to meet the following requirements to be eligible for an FHA home loan: 580 or higher credit score for a 3.5% down payment (a higher down payment is required if credit score is lower than 580). A 50% or less debt-to-income ratio (DTI). Steady employment and income history. The property being purchased will be used as primary residence. No foreclosures in the past 3 years or bankruptcy in the last 2 years.
FHA loans also allow up to 50% debt-to-income ratios, so if you have fairly high levels of current debt, then it is much more likely that you will qualify for an FHA loan than another type of home loan.
FHA loans have good interest rates even with lower credit scores.
When it comes to FHA mortgages, the first thing that you need to understand is that it is not the Federal Housing Administration that loans money to you. You obtain an FHA mortgage loan either from a mortgage lender or a bank, just like you would with any other type of mortgage loan.
The role of the FHA is to insure those mortgages, offering protection to lenders if borrowers are unable to pay back their loans. This then allows FHA loans to be offered by mortgage lenders with looser requirements to qualify along with lower interest rates. But, with this flexibility comes the requirement to pay for FHA mortgage insurance to protect your mortgage lender. This mortgage insurance is known as MIP on FHA loans.
These insurance premiums are what make it possible to have an FHA mortgage loan program. Without the FHA mortgage insurance premium (MIP), there wouldn't be much of a reason for FHA-approved lenders to offer FHA-insured loans. 
FHA loans require two types of MIP. One is paid in the form of a lump sum at the time when the loan is closed, and the second one is a yearly premium, which every year becomes less expensive as you continue to pay down the loan balance. Annual Mortgage Insurance Premium (MIP) is 0.85% of the amount of the loan on most FHA loans and is included and paid with your monthly mortgage payment. Upfront Mortgage Insurance Premium (UFMIP) is 1.75% of the amount of the loan and is typically financed/added to the loan.
There are also ways that the amount you owe in FHA MIP can be reduced. Depending on your loan term and down payment, your mortgage insurance can be reduced to 11 years rather than the entire loan term. 
| Loan Term | Down Payment | MIP Duration |
| --- | --- | --- |
| | | |
| | | |
| | | |
| | | |
You can always refinance out of the FHA MIP later if rates in the future are lower. This could remove the monthly mortgage insurance and lower the total mortgage payment.
Benefits of an FHA Mortgage


Low down payment. A 3.5% down payment is allowed on FHA loans.
100% gift funds are allowed on FHA loans for the closing costs and down payment.
With an FHA loan, your whole 3.5% down payment can be paid from a government homebuyer program, an approved charitable group, an employer, or a gift from your parents or another family member. However, if you are using a gift for your down payment, there is a process you need to follow for receiving funds and gifting. 
Higher debt-to-income ratios (DTI) are allowed for FHA loans.
Lower credit scores are accepted for FHA loans 
FHA even allows applicants that do not have credit scores. Borrowers are allowed to build non-traditional credit by FHA as an alternative option to traditional credit history. That can be a big advantage to people who do not have credit scores based on having a lack of credit card usage or borrowing in their past. Payment histories on items like apartment rent, car insurance bills, cell phone bills, and utility bills can be used by borrowers to build up non-traditional credit. 
Click here to look up the current FHA loan limit in your county.
An FHA Streamline Refinance can be used to lower your rate in the future if you already have an FHA loan. This FHA program provides homeowners with one of the fastest and easiest ways to refinance their homes. FHA Streamline Refinance does not require income verification or credit score checks, and home appraisals are completely waived. 
Anyone can apply for an FHA loan. It is not necessary to be a first-time homebuyer. There are no income cap requirements set by FHA unlike some conventional low down payment programs.
Is obtaining an FHA loan easy?
It is often considered easier to get an FHA loan compared to other kinds of mortgages. One of the major reasons is the credit score requirements are lower. Higher debt-to-income ratios are also allowed by FHA. For borrowers with large debts – such as car loans and student loans, or other types of monthly payments, this is good news. Only a 3.5% down payment is required on an FHA loan, and the entire down payment can be paid for using down payment assistance or gift funds. Overall, FHA loans are very forgiving for homebuyers who may otherwise have difficulties qualifying for a mortgage.
Do FHA loans have a maximum income?
To qualify for FHA loans, there is not any income limit. An FHA loan can be applied for with any salary amount. However, you need to stay below the debt-to-income maximum limit and meet the FICO minimum credit score.
What are the drawbacks to FHA loans?
The expensive mortgage insurance is the biggest drawback to FHA loans. You cannot cancel FHA mortgage insurance after you have built up equity the way you can with conventional loans. However, after you have 20% equity it is possible for you to refinance out of an FHA loan over to a conventional loan that does not have private mortgage insurance. So, if your credit is low or there are other roadblocks that are preventing you from qualifying for a mortgage, an FHA loan can be an excellent way to buy a house now and then refinance later to lower your overall expenses.
How much of an FHA loan can I qualify for?
What types of mortgages are offered by FHA loans?
FHA is best-known for offering 30-year fixed-rate mortgages. However, they offer a 15-year fixed-rate loan as well, in addition to a few adjustable-rate mortgage (ARMs) programs. 
What types of houses meet FHA requirements?
The FHA insures manufactured homes, mobile homes, condominiums, 4-unit houses, 3-unit houses, 2-unit houses, and single-family detached houses. FHA homebuyers can buy any type of home in any neighborhood in the US – including any U.S territory, the District of Columbia, and all 50 states.
Yes, they are. One FHA benefit that is not well-known is that the FHA allows an existing FHA mortgage to be assumed by a homebuyer on a house they are purchasing. The buyer still will need to qualify for this mortgage based on its existing terms.
Can you purchase a house with an FHA loan to rent it out?
You are allowed by FHA to buy a rental property with just a 3.5% down payment, but there are some limitations. You must select a multi-unit property – a fourplex, triplex, or duplex, and then live in one of these units. Your mortgage payment can be fully or partially offset from the rent you receive from the other units. Conventional loans require 20-25% down payment for investment properties depending on property type and you also must have assets, income, and excellent credit. FHA financing can be used for obtaining landlord experience with potentially more reward and less risk with a lower down payment.
What is loan-to-value (LTV)?
This is another way to discuss down payments. The LTV ratio compares the value of your home to the amount of your loan. In other words, the amount you are borrowing after the down payment. For example, if you make a 3.5% down payment on an FHA loan, then you have a 96.5% LTV since 96.5% of the home's purchase price is being borrowed. LTV is important as well when you are refinancing since it shows the amount that you owe on your mortgage as compared to the current value of your house.
When refinancing, if your LTV ratio is 80% or lower – which means you have 20% equity at least – it may be possible to refinance out of your FHA loan and get a conventional loan instead that does not have mortgage insurance. 
FHA underwriting and appraisals
Underwriting on an FHA mortgage isn't much more complex than underwriting on a conventional loan. With both types of loans, your employment history will need to be documented using tax returns or pay stubs. Both also require your credit score and credit history to be thoroughly checked. However, there are minimum property standards set by HUD on FHA properties. The standards ensure that houses are physically sound, secure, and safe. To buy a house with an FHA loan, an FHA appraisal will need to be completed on the property to ensure those standards are met. We will order this appraisal. Keep in mind that if the property has any issues found during the appraisal, these issues will likely need to be addressed prior to closing on the FHA loan. In addition, condominium projects must be approved by FHA. This can be easily looked-up online.
Do FHA loans have higher closing costs?
Conventional loans and FHA loans have about the same closing costs, with a few exceptions. The appraiser's fee on FHA loans tends to cost a little more. Also, if you decide to pay the upfront MIP with cash rather than having the 1.75% fee added to the loan amount, then the one-time fee is added to your total closing costs.
FHA Home Loan Alternatives
If an FHA mortgage doesn't seem like the right fit, there are a number of non-government-backed (conventional) and government-backed options that provide flexible underwriting and low down payment options.
They include the following:
VA loans (0% down), for Veterans

Freddie Mac Home Possible loan (3% down)

Fannie Mae HomeReady loan (3% down)

Conventional 97 loan (3% down)
Eligibility for an FHA mortgage is not restricted to low-income or first-time homebuyers. Higher credit scores are often required for conventional and conforming loans. No one mortgage program is the best for every homebuyer. Therefore, it is a good idea to compare them.
Complete your pre-qualification online today. Click the link below and we'll walk you through the steps to begin the home financing process.
Complete the form below and a Sharpe Representative will be in touch with you within 24 hours.
We Can Help You Decide if an FHA Loan is Right for You