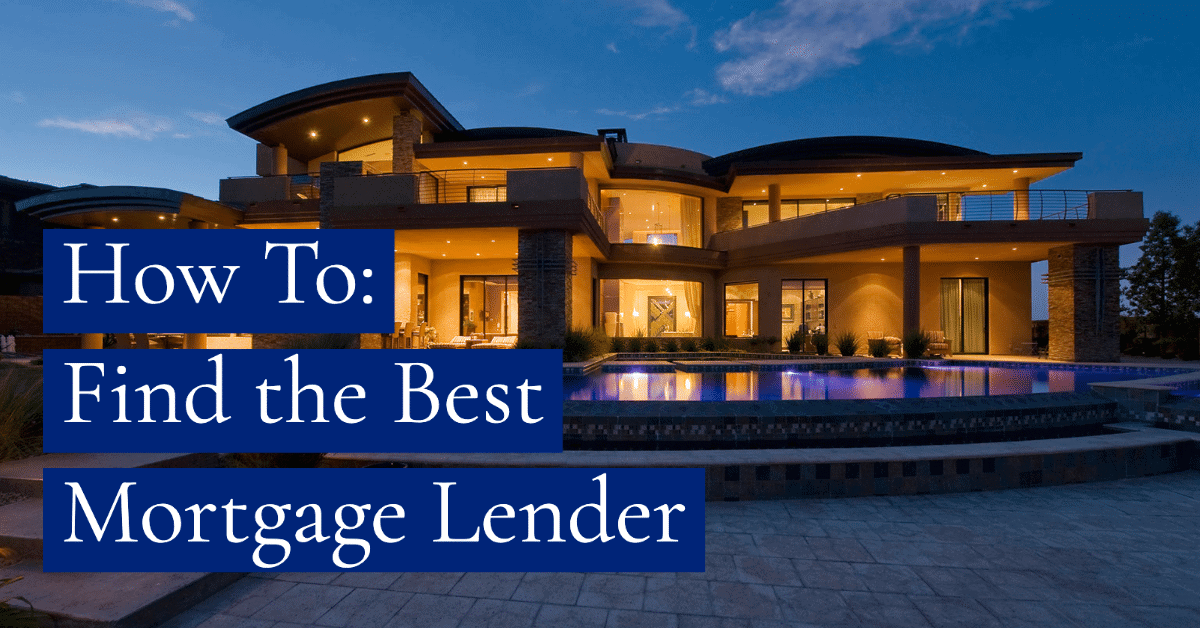 How to Find the Best Mortgage Lender
Finding the best mortgage lender requires some research and planning, but this helpful mortgage lender guide will set you on the right path.
If you're in the market for a new home, you're probably also looking for a mortgage lender. But how do you find the best mortgage lender? Here are a few tips to get you started.
Understand the different types of mortgage lenders.
Understanding the different types of mortgage lenders can be complicated, but it's important to help you select the best loan options for your goals. There are five main types of mortgage lenders you'll encounter when searching for the best mortgage lender for your situation.
1. Direct Lenders
A direct lender is a financial institution that provides loans directly to borrowers rather than through intermediaries such as mortgage brokers or correspondents. Direct lenders fund their own loans and may sometimes provide more competitive rates and terms than other lenders.
Rates and terms vary widely among each direct lender, so it's important to have a thorough understanding of the types of loans, interest rates, and the terms of each product. Buyers using a direct lender will need to do their own comparison shopping to find the best rate. Because of the wide variety of mortgage products available, most buyers find that working with a mortgage broker saves them time, money, and frustration.
2. Mortgage Brokers
A mortgage broker acts as a middleman between borrowers and lenders, helping to match borrowers with the best lender for their financial situation. They typically work with several lenders and can help you compare loan offerings, rates, and other important factors.
Mortgage brokers are also beneficial for borrowers who have difficulty getting approved through traditional methods. This is because a broker can work with multiple lenders to find the best options for your individual needs. A mortgage broker will provide personalized customer service and walk you through each step of the process.
3. Correspondent Lenders
Correspondent lenders originate their own loans and work with investors to structure the best loan terms possible. This type of lender is typically more flexible than a direct lender, as they can often negotiate better rates or terms on behalf of borrowers.
Working with a correspondent lender can often be faster and more efficient than working with other types of lenders. Correspondent lenders are much like mortgage brokers, but they lend their own funds and have control over the entire loan underwriting process. They then sell the loan to a direct lender, giving you the personalized attention of a mortgage broker with the benefits of a direct lender.  As correspondent lenders are normally smaller than direct lenders, they are much easier to work with and more tied to the local market.
4. Portfolio Lenders
Portfolio lenders hold all of the funds used to fund loans in-house. This means they can lend money without going through an external lender or credit agency.
Portfolio lenders are typically more flexible than direct lenders and may be willing to work with borrowers who have less-than-perfect credit. The downside of this type of lender is that they may not be able to provide you with the most competitive rates or terms, as they are limited by their own funds and not broader market conditions.
5. Hard Money Lenders
Hard money lenders provide short-term loans secured by real estate. They specialize in offering financing to those with less-than-perfect credit. These loans are often used for short-term needs such as bridge financing or investment financing and typically come with higher interest rates, shorter repayment periods, higher monthly payments, and limited loan amounts.
The benefit of working with a hard money lender is that they can often offer financing in a much faster time frame than traditional lenders. However, the high interest rates, increased fees, and short repayment periods (typically one to five years) make this type of financing less desirable for those looking for long-term mortgages or other loan products.
Who is the best mortgage lender for me?
It is important to understand the different types of lenders available and the advantages and disadvantages of each. Each lender offers unique benefits, so it is important to weigh your options carefully before making a decision. Direct lenders, correspondent lenders, and mortgage brokers are often the best option for borrowers looking for personalized service and competitive rates. Most buyers find that working with a mortgage broker or correspondent lender gives them peace of mind, knowing they are getting the best rates for their mortgage. Ultimately, finding the best mortgage lender will depend on your individual situation and needs. Consider all of your options to ensure that you are getting the most advantageous loan terms possible.
To find the best mortgage lender, start by reading their reviews.
Reading Google reviews, client testimonials, and referrals can provide you with an unbiased opinion when making the big decision to engage with a mortgage lender. Taking the time to read these reviews can save you a lot of money in the long run, as you will be more prepared and have greater knowledge if something doesn't turn out as expected. Furthermore, glancing through Google reviews and referrals can help you avoid any red flags so that you don't make a hasty decision.
[grw id="1604″]
The best mortgage lender offers a wide variety of mortgage programs.
When shopping around for a mortgage, it is important to find a lender who offers a wide variety of programs. For example, FHA loans and VA loans can benefit first-time homebuyers seeking lower down payments, while jumbo mortgages can accommodate those purchasing higher-priced real estate. If you already own a home but want to save money or switch lenders, you may want to consider refinancing as an option. An experienced mortgage broker can help you understand the different home loan types available and select the one that best meets your needs.
Get pre-approved for a loan.
Finally, once you've narrowed down your list of the best mortgage lenders, it's important to get pre-approved for a loan. This will give you the ability to shop around confidently – knowing that the lender is willing to lend you the amount needed and that you're likely to be approved. It can also give you an idea of what kind of loan terms, interest rates, and fees are available so that you can make a more informed decision when it comes time to apply for the official loan.
Close on the loan.
A good mortgage lender will stick with you throughout the entire process. They should be able to provide helpful advice and assistance as you apply for, get approved for, and close on your loan. It is important to select a lender who offers excellent communication so that you can stay informed throughout the process.
By taking the time to research your options and understand the various types of mortgage lenders, you can ensure that you get the best deal possible and find a lender who will meet your needs. With the right knowledge and preparation, you can secure a loan that meets your individual goals and helps you reach your financial objectives.
Why is Sharpe the Best Mortgage Lender?
At Sharpe Mortgage Lending Services of Georgia, we offer the best of both correspondent lending and loan brokerage. We understand the market and can help you smoothly navigate the home-buying process while pairing you with the best loan solution. We offer a variety of loan programs designed to meet your individual needs, so contact us today for more information about how we can help you find the best mortgage lender for your situation!